Weathered wood and stained sheets recolor of the Ashley bedroom from Around the sims.

About the painting: 01s contains canvas AND frame textures. 02s only contains canvas texture.

Textures used on this recolor were extracted from "Vampire ~ the masquerade: bloodlines" video game. I just love that game.


(16 files / 1.1 Mb)

Download the meshes
In-game previews: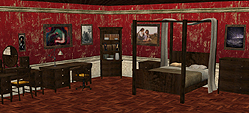 Preview credits: floor by me, not yet available.