14 wall papers and 5 floors.
Some walls are ment to be couple together for 2 or 3 stories building.
1 (ab), 2 (ab) and 7 (ab) are stand alone.
3 (ab) must be coupled with 6 (ab) for 2 stories building.
3 (ab) must be coupled with 4 (ab) and 5 (ab) for 3 stories building.
(check the preview bellow for illustration).

Floors are (2x2). 2a and 2b uses the same texture, but 2b has a smaller pattern than 2a.

A collection file is also included.



(21 files / 1.6 Mb)

Important note :

these walls are semi-seemless, which means that they won't align properly unless you alternate a with b. This was done to reduce the redundancy effect of these textures.


All the textures from these files have been extracted from "the Vampire ~ the masquerade: bloodlines" video game.
One of my favorites outside the sim universe :)
In-game previews: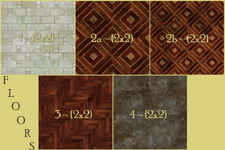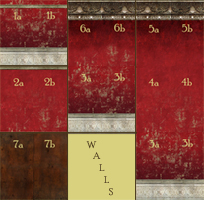 More in game previews in the screenshot section. Check the "Asylum serie".