One recolor of the in game drums set that comes with University.

Textures used on this recolor were extracted from "Vampire ~ the masquerade: bloodlines" video game. I just love that game.



(1 file / 115 kb)

You will need to install CEP for this file to show in game. And, of course you need University expension pack.


In-game previews: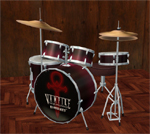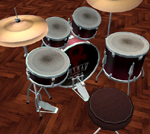 Preview credits: Walls and floors by me, available here.
Male sim in the above preview is Aingeru. Check the screenshots section for a bigger version and more pics of him.