One recolor of Fresh Prince's green acres broken bed. Unfortunalty, the other items from this set are not recolorable :(

I have made a version of the bedding for regular beds. You can download it here



(1 files / 685 kb)

Mesh is NOT included. You must download it from Fresh-Prince@Saphire Sims here.
(You must be a member to access the downloads).
In-game preview: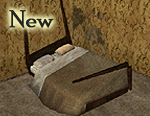 Preview credits: Walls and floors by me. Walls not yet available. Floors can be downloaded here.